Situated in the far northwest corner of California, Del Norte is home to more than 27,000 residents. Located at 875 5th Street, in Crescent City, The SMART Workforce Center is at the heart of cultivating the vibrant workforce. 
The SMART Workforce Center is only a few minutes away from Battery Point Lighthouse, and an array of beautiful coastal views and beaches. 
---
E3 Summer Youth Program
During the Summer months, we offer a program called E3 (Experience, Education, Employment) for incoming high school juniors, seniors, and recent graduates. Youth can earn wages during a paid internship, as well as earn up to 10 high school elective credits for participating in the program. Find us on Facebook @E3SummerYouth.
---
SMART Hosted Seminars
In early 2021, Smart was proud to host Dr. Robert Eyler, a sought-after keynote speaker and Professor of Economics at Sonoma State University, to give 30-minute updates regarding the state of the economy and economic outlooks for 2021 in each of the counties that Smart serves.  Click play to view the video or click on the link below the video to access a PDF copy of the slides.
Del Norte County:
Labor Market Information for Del Norte County: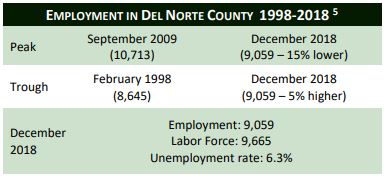 Labor force statistics include both the employed and the unemployed, excluding only those who have stopped looking for work (discouraged workers) and those who are voluntarily not in the labor force. In December 2018, 9,665 individuals participated in the Del Norte County labor force, of these, 9,059 were employed and 606 were unemployed. Over the last 20 years, employment in the county was at its highest in September 2009 and lowest in February 1998. As of December 2018, the unemployment rate was 6.3%, higher than the unemployment rate of California (4.1%) and the United States (3.9%).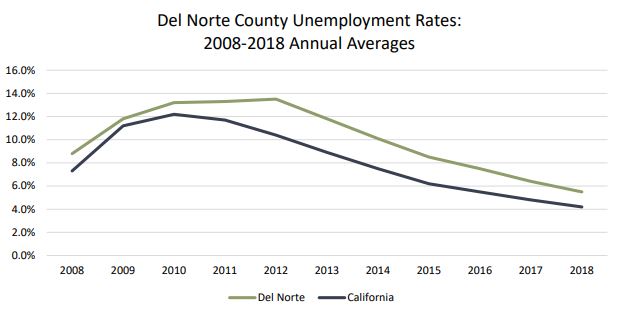 ---
For the most up-to-date information on the Labor Market for Del Norte County:
Click Here
For more information on the Labor Market for Del Norte County: 
Click Here
Del Norte Services
We can help you in many ways in Del Norte County, learn about how we can help:
Del Norte Partners
Smart works with these partners in our community in Del Norte.